Why Men Need to Research Before Choosing a Plastic Surgeon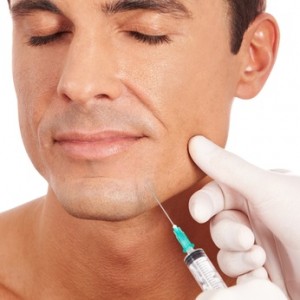 New York City, New York – Are you a man who secretly desires to look younger, but are worried about what others may think if you choose to "go under the knife?"
There's good news for you – more and more male patients are turning to plastic surgery to achieve a more youthful look. In fact, the American Academy of Facial Plastic and Reconstructive Surgery reports that there has been a 60 percent increase in male plastic surgery patients since 2000.
The majority of cosmetic procedures are still performed on women, and that is exactly why men need to properly research before choosing their plastic surgeon in Manhattan.
"The way surgeons approach a male face and body must be totally different from the way we approach those of a female," says Dr. Andrew Miller, a plastic surgeon in New York. "The face especially is incredibly complex. Plastic surgeons must understand the intricate differences in what makes a face soft and feminine versus what makes a male face seem more rugged and handsome. Without understanding these differences, a man seeking a small update to his appearance could leave the surgeon's office with a more feminine look than he desires."
Since plastic surgery isn't just for women anymore, what are the procedures men are turning to the most?
Men typically want a quick turnaround. They don't want to be down for long, and want procedures that make them look and feel younger, while also allowing them to jump right back into their active lifestyles. For many men that means turning to the less invasive procedures, such as Botox.
Botox is a great way for men to reduce the appearance of wrinkles and furrowed brows that come with aging. In men especially, Botox injections can be effective to ease a furrowed brow, making the patient seem more friendly and approachable. A constantly furrowed brow, even when you're unaware of it, may be making you look angry or unfriendly. But a few Botox injections can solve that problem, softening wrinkles and helping men appear more youthful for up to four months.
The American Society of Plastic Surgeons reports that Botox injections among men increase 233 percent from 2000 to 2005. Because of that, surgeons are becoming more and more comfortable with the injections. Just as with anything else, the more often you do something, the quicker you're able to master it. This is true for surgeons injecting Botox. And that's why many men are turning to it – they know that by choosing a surgeon who regularly injects Botox, they'll leave the office looking refreshed and well-rested, rather than stiff and frozen.
Fat and filler injections are another great option for men wanting to add a more youthful fullness to their faces. Men love the immediate results. You can't beat the convenience of being able to quickly pop into your surgeon's office and emerge a short time later, looking younger than you did before.
As men no longer have to hide their vanity for fear of not being masculine, hair restoration is also seeing an increase. While it isn't an immediate fix, for many men it is a longer term solution to helping them feel more confident. Transplantation involves taking a piece of hair-bearing scalp, then dividing it into grafts. These pieces are then placed in sites in the balding area. It takes several sessions to complete, so men won't have their full head of hair back for a few months.
Ablative skin resurfacing is also having its day. Many men have never thought about maintaining a skin care ritual the same way women do. Most women would never dream of going to bed without washing and moisturizing their most visible asset. Until recently, men who did the same often got a bad rap. But now, they're realizing they should have taken more time to care for their skin. Chemical peels, laser resurfacing and dermabrasion remove damaged or wrinkling skin to reveal smoother and younger skin.
Facial rejuvenation can help you feel younger and more confident, but you shouldn't take your choice of surgeon lightly.
Dr. Miller encourages all potential patients to thoroughly research plastic surgeons before selecting one. You should consider the surgeon's education and experience. Ask them to explain their medical background, including their education, residency and fellowship. Then, ask the surgeon how many procedures the surgeon has performed similar to the one you want. If you're looking for Botox injections, and the plastic surgeon doesn't have experience using Botox on men, you may want to look elsewhere.
Always ask for photographs to best show the results the surgeon was able to gain. Results vary from person to person, so this is the best way for you to see the surgeon's true ability. Before and after photos will give you an accurate representation of how well the surgeon was able to perform the procedure.
If possible, ask for referrals. Being able to speak with former patients will also help you assess the effectiveness of the procedure. If the male patient was satisfied that the look he wanted was achieved by the surgeon, you might just be in luck.
There are so many benefits to plastic surgery, and men everywhere are now realizing they can reap those benefits without fear of feeling or looking less masculine. By taking the time to carefully choose the right cosmetic surgeon, men can gain back the confidence of their youth in no time.
© 2013 Sinai Marketing and Allure Plastic Surgery. Authorization to post is granted, with the stipulation that Sinai Marketing and Associates in Plastic Surgery is credited as sole source. Linking to other sites from this article is strictly prohibited, with the exception of herein imbedded links.