At Allure Plastic Surgery, your health and well-being are our top priority. Our plastic surgeons and handpicked anesthesiologists provide their patients with a safe and enjoyable experience. We also have a top-notch team of nurse practitioners and certified registered nurses trained in providing the best pre-and postoperative care.
We encourage our patients to ask as many questions as needed to feel confident about their procedure and comfortable with their surgeon. We also encourage them to explore our website, which has been created to help our potential and current patients explore the vast procedures available today. If you need assistance, please don't hesitate to call us at (646) 844-5683.
What You Can Expect
at Allure Plastic Surgery
All of the surgeries we offer are performed as out-patient procedures in one of our comfortable, state-of-the-art facilities. Our operating suite is private, calm and gives patients the freedom to recover in the comfort of their own home. Our technology is often tailored specifically for plastic surgery, and the staff has been carefully selected by your surgeon to assist with your procedure. Our comfortable waiting area is perfect for family members awaiting your transformation and we can easily arrange for transportation following the procedure, at your request.
Making Advances
at Allure
Plastic surgery should be an enjoyable and satisfying experience. An improved body image is rewarding and, according to our patients, can enhance your personal and professional life and relationships.
The field of plastic surgery is improving rapidly. We strive to provide our patients with the most up to date technology, and latest improvements in the field. These tend to be less invasive and offer reduced recovery times. Such advances include:
Laser liposuction (SmartLipo)
Fraxel® and carbon dioxide lasers for skin laxity and pigmentation
Gel-filled breast implants
Natural rhinoplasty
Endoscopic techniques for facial and stomach tightening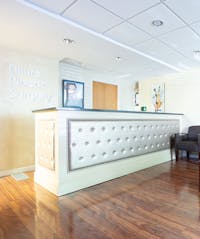 The Allure
Plastic Surgery Facilities
Safety and Comfort
Our operating suites not only offer comfort, convenience and privacy but also meet the highest standards of safety. Each of our facilities is accredited with the Accreditation Association for Ambulatory Health Care and utilizes the most reputable equipment and technology available today. We have 5 locations, which can be easily accessed using major roadways, subways or buses in the Staten Island, New York, New Jersey and Philadelphia Metropolitan regions.
Computerized Imaging
An added bonus to your consultation is computer imaging, which allows us to provide you with a sneak peak of your "post-procedure" self. You can remove the uncertainty and guesswork from your in-person consultation process, and ensure that you're going into your procedure with results that are completely realistic. Work closely with your surgeon to ensure that your procedure will yield the exact look you've been hoping for.
Emergency Services
Emergencies happen. If, during an accident, you or a family member sustains a skin laceration, our surgeons are available for 24-hour emergency plastic surgery care. The majority of these plastic surgery emergencies can be addressed in the convenience of one of our facilities however, we are also available in the local hospitals. Our commitment to your safety is unceasing, and we'll take every possible measure to make sure your care is second to none.
Insurance
Certain surgeries may be covered by your health insurance. Your doctor can discuss this with you during your consultation. We'll talk you through everything you need to know about insurance coverage, and will ensure that you're equipped with any and every piece of relevant information that your insurance provider might need from you. We'll help you through the most complicated parts of your surgery, so you can rest easy and focus on your recovery.
Fees & Financing
During your consultation your surgeon will go over the total cost of your procedure, which will include all applicable fees. We accept all forms of payment and offer several flexible financing options.
To learn more about our facility and other details about Allure Plastic Surgery, please contact us online or call (646) 844-5683. We proudly serve patients throughout NYC, including Long Island, Manhattan, and other areas.