Implants for Bodybuilders
There are several types of implants we use that have been specifically designed to enhance certain muscle groups. If you're looking for a way to experience dramatic results, adding contour, volume, and definition to a specific part of the body, take a look at the various body implants we offer. Reach out and set up an in-person consultation today, and we'll help you learn everything you need to know about which body implants might be right for you.
Calf Implants in Staten Island, NYC
For patients who do not have calf definition, it can be extremely difficult to build them in size, even when a strenuous workout routine is employed. Calf Implants are a safe and permanent way for these individuals to enhance the size of their calf muscles.
A discrete incision is made on the backside of the knee and a conservative pocket is made to accommodate the implant. The implant used is silicone and appears very smooth and natural from the outside. The natural look is the result of the trained eyes of our surgeons who examine the overall leg to make sure that the size of the implant fits the individual.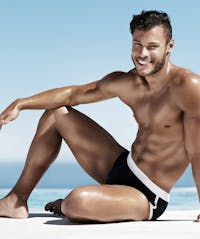 Upper Body Implants
Pectoral Implants
The pectoralis—chest muscle—is easily and naturally enhanced with a special, solid silicone implant. The implant is placed under the muscle through an incision made in the armpit. Recovery takes a few days thanks to the support of a compression vest. The results are a muscular and defined chest that feels natural to the touch.
Bicep Implants
Bicep implants give a boost to the size of the bicep to create the look of strong, defined arms. A silicone implant is inserted through a hidden incision and gives the arm extremely natural looking and satisfying size improvement.
To learn more about how different types of implants might be suitable for your toning goals, please contact Allure Plastic Surgery online or call (646) 844-5683 today. We serve patients in and around Manhattan and other areas of NYC.