For those wishing to treat both the front and back of the body, we offer Liposuction 360 at Allure Plastic Surgery in Staten Island. As its name suggests, this is a liposuction procedure that focuses on the front and back of the body, for full treatment that encompasses the whole body.
Am I a Good Candidate for Lipo 360?
The best candidates for Liposuction 360 are those who have been experiencing stubborn pockets of fat on both the front and back of the body. This procedure is most typically applied to the midsection and is designed to both tighten and contour the front and back alike.
Schedule an in-person consultation to learn more about the procedure and how it can benefit you, today. We work closely with each and every one of our patients, answering questions and collaboratively designing a treatment plan that is tailored to your specific goals and body type.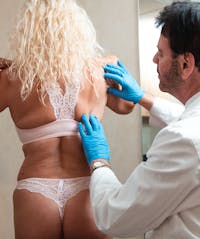 Learn More about 360 Degree Liposuction