Plasma Pen
The Plasma Pen is the latest FDA-approved innovative treatment for lines, wrinkles, and droopy skin. It is a non-invasive and non-surgical treatment for the face and body that treats wrinkles and saggy skin by causing an electrical arc to stimulate and ionize the air above the wrinkle, thus causing the skin to tighten and contract. It targets the fibroblast cell which is part of the connective tissue. A series of dots are created along the skin triggering tightening, lifting, and collagen regrowth.
What are the benefits of Plasma Pen?
Treatment is painless and comfortable

Non-surgical and minimally invasive procedure

Customized to meet your specific needs

Treatment is fast, with a typical session lasting 30 minutes

Side effects are minimal and little to no downtime is required

Rapid results with continued improvements seen over 12 weeks

Improves a wide range of common cosmetic conditions including:

Loose and sagging skin

Spider veins

Acne scars

Fine lines, wrinkles, and creases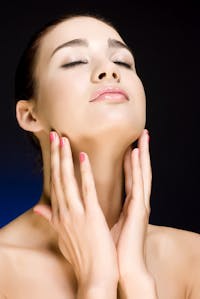 What conditions can be treated with Plasma Pen?
Lip lines

Necklines

Acne scars

Frown lines on the forehead

Smile lines around the nose and mouth area

Crows feet and wrinkles around the upper and lower eyelids

Droopy, loose skin on the abdomen, elbows, knees, and arms.
Common treatment areas:
Face

Upper and lower eyelids

Neck and decolletage

Arms

Back of hands

Knees and elbows
How does Plasma Pen work?
The Plasma Pen emits a controlled electric charge that delivers plasma gat particles to create controlled micro-injuries in the skin. The body responds to these micro-injuries by increasing its turnover of new cells and producing healthy collagen and elastin. Higher settings can also be used to vaporize excess skin tissue in certain areas.
This a no-contact device that uses a controlled electric charge to deliver plasma gas particles that create micro-injuries on the skin's surface, vaporizing excess skin tissues. Micro-injuries trigger the body's natural healing response, leading to skin cell regeneration and new collagen and elastin formation. The treated areas develop small scabs that gradually flake off within a week, revealing fresh, new, and restored skin. The treatment leads to tightened, taut, and smooth skin.
What is treatment like?
A topical numbing cream is usually applied 30 minutes prior to treatment to minimize pain and make the procedure comfortable. The Plasma Pen is then set to deliver the right amount of plasma energy into treatment areas and it is then carefully run above the treatment area, against a pattern of dots that have been on the skin. The device doesn't ever touch the skin but instead delivers the energy from above it. Treatment time can vary from 30 to 60 minutes, with areas such as the upper and lower eyelids treatable in 30 minutes, while larger areas will require a longer treatment time.
What is recovery like?
Following the procedure, mild scabs and crusts will form and swelling can also occur. The crusts usually disappear by the 5th to 7th day, leaving fresh, smooth skin. There is some mild redness to the skin that usually lasts between 2 to 4 weeks and can be covered by foundation.
Am I a candidate for Plasma Pen?
This FDA-approved treatment can be very safely and effectively administered by our trained physicians. If you'd like the benefits of facial rejuvenation and of reversing some of the many common signs of aging without requiring any surgery or extended downtime, you are very likely a candidate for Plasma Pen treatment. Treatment is not recommended for women who are pregnant or nursing, or for persons with certain autoimmune conditions.