Plus Size Model Tess Holliday Announces Plastic Surgery Plans on Instagram
Tess Holliday, a size-22 model, has made a name for herself with the #effyourbeautystandards campaign, but recently it seems that she may have had a change of heart when it comes to her own appearance. She recently posted photos on Instagram of meeting with a plastic surgeon. Her caption read:
"Today I had a great conversation with my friend @DrGhavami about what my options are to work on some of the things [the sun] & mothering two children has done to my body. These aren't "flaws" - but they are things that have taken away from what makes me feel sexy in my own skin."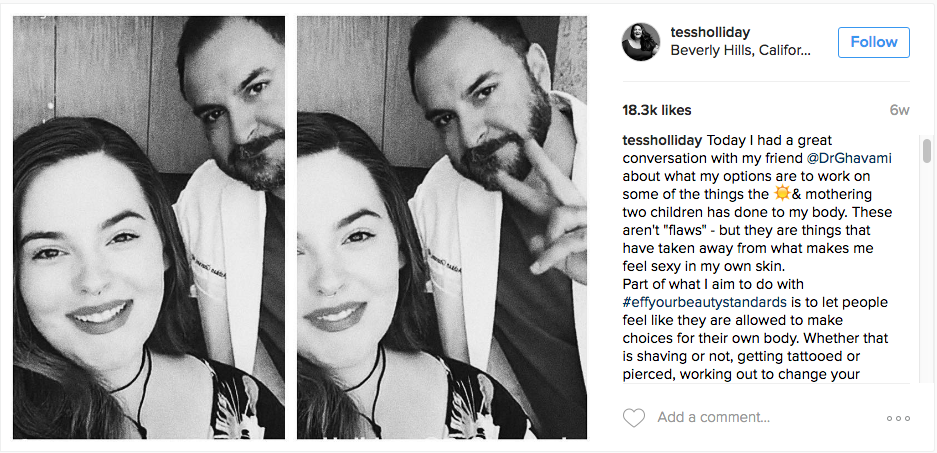 She went on to emphasize that she wanted her campaign to empower people to feel that they are allowed to make choices about their own bodies and what makes them feel comfortable and confident with themselves.
Although, Tess didn't give details about what procedures she is considering, she is likely discussing options for a mommy makeover to reverse the effects of pregnancy and motherhood on her body. She may also be considering skin rejuvenation techniques, such as Fraxel® lasers, to improve the tone and texture of her sun-damaged skin.
Would you like to explore your plastic surgery options? Call Allure Plastic Surgery today at (212) 661-2563 to schedule your consultation with one of our experienced New York plastic surgeons to discuss which procedures can help you achieve the results you want. We welcome patients throughout New York City, Manhattan, and Long Island.