Is Facebook to Thank for the Increase in Plastic Surgeries?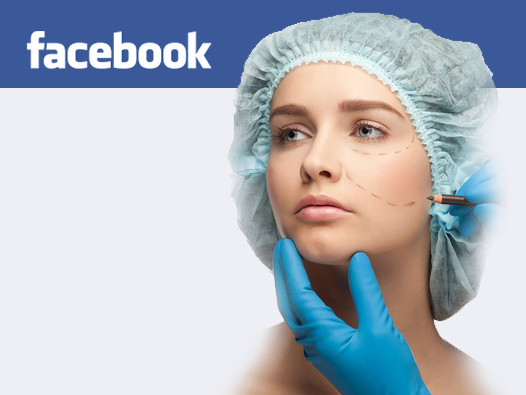 MANHATTAN, NEW YORK — They say a picture is worth a thousand words however, these days they may be worth a thousand dollars, maybe more. And we mean that in more ways than one.
When it comes to plastic surgery, some patients are making money and some are spending it.
The rapidly increasing popularity of social media sites is causing people to become more conscious of their appearance and is serving as a catalyst for facial rejuvenation according to statistics released by the American Academy of Facial Plastic and Reconstructive Surgery, Inc.
Spending money: Getting plastic surgery because of envy.
"Unflattering self-images and envy of the good looks of others were convicting people to address their image long before Facebook, Twitter and Pinterest blew up," says Dr. Andrew Miller, a New York plastic surgeon. "Because the main component and most entrancing feature of social sites is photo sharing, people are flung into the 'perfect storm' of comparing themselves to others, which fuels a desire to improve or change their appearance. So I am not surprised at all that an increase in plastic surgery, particularly facial plastic surgery, seems to correlate with the popularity of social sites."
An article that delves deeper into why social sites – Facebook in particular – trigger envy can be found here.
Making money: Getting plastic surgery to get the job.
There have been many studies including this one from Psychology Today, which claim that better, younger looking people have less trouble finding jobs and make considerably more than less attractive individuals.
Today's economy has reduced the job market and pushed back retirement for many. Because of this, many individuals see plastic surgery as job security or an investment that yields a great return if it helps them get a job sooner, or secure one at a higher wage.
What procedures are people making/spending money on?
Cosmetic, minimally invasive procedures increased by nearly 100 percent from 2000 to 2012, according to results of the American Society of Plastic Surgeons' annual Plastic Surgery Statistics Report.
Many procedures fall under this category but those that saw the largest increase include:
Botulinum toxin type A (Botox, Dysport) + 680 percent

Reduces forehead lines, crow's feet and other lines caused by repetitive muscle contraction

Soft Tissue Fillers (Juvederm, Radiesse, etc.) + 205 percent

Plumps wrinkles, cheeks, lips and reduces dark circles

Laser Resurfacing (Fraxel or Ablative lasers) + 198 percent

Improves fine lines, sun damage and acne scarring
"When used individually, these procedures yield subtle, facial enhancement," says Dr. Miller who is a Manhattan rhinoplasty (nose job) specialist. "But when combined, you get a much more dramatic result with little to no down time."
To learn more about improving your image with little to no downtime, contact Allure Plastic Surgery for a free initial consultation.