Countess Vaughn Talks About Maintaining Healthy Weight After Liposuction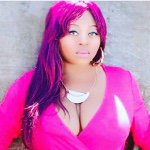 Manhattan, Long Island, New York City, NY – Countess Vaughn, a former child star and current star of Hollywood Divas has been enjoying a much slimmer, toner appearance since undergoing liposuction last year.
In a recent interview with International Business Times, Vaughn opened up about maintaining her weight after the procedure. "I just want to be a role model for plus women and let them know that you're beautiful also, and that there's not one type of beauty. There [are] all different sorts of flavors, shapes and sizes, and you can enjoy all of them."
Since her liposuction procedure, Vaughn has eliminated breads and soda from her diet. She also tries to stay active. The actress admitted that it's a lot of hard work since she's down to a size 8 from an 18. Her body took about a year to fully recover because of some health issues.
But now that she has embraced a healthier lifestyle, Vaughn has set her sights on joining Dancing With the Stars, something she was afraid to do previously.
To take control of your body contours and change the way you feel about your curves, call Allure Plastic Surgery today at (212) 661-2563 to arrange your body contouring consultation with an experienced New York plastic surgeon.