All about Arm Lifts: What They Are and Why You May Be a Good Candidate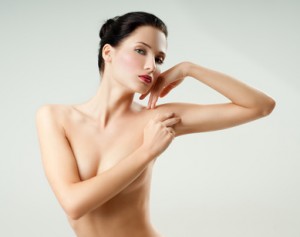 MANHATTAN AND NEW YORK CITY – If you have used dumbbells and kettle bells in an effort to achieve sculpted arms, but have not seen results, it may be stubborn sagging skin that is the source of your flabby-looking arms. Luckily, even though exercise cannot give you the arms you desire, there is a solution.
Brachioplasty, or arm lift, can improve the look of arms in ways that working out and liposuction cannot. The surgery uses an incision made in your armpit or along the inside of your arm to get rid of excess skin. It changes the appearance of the upper arm—from the underarm area to the elbow.
"Even though exercise can strengthen and tone upper arm muscles, it cannot treat skin that has lost its elasticity," said Dr. Elliot Heller, a plastic surgeon in NY who specializes in a number of enhancement procedures. "The only option for weakened skin tissues is surgery."
Arm lift surgery has increased in popularity since 2000, rising from 300 procedures performed in 2000 to more than 15,000 surgeries completed in 2012. There are several possible explanations as to why more patients are undergoing arm lift surgery, including the growing number of those who are choosing weight loss surgeries, like gastric bypass, to help them drop the pounds. Weight loss procedures may help patients get rid of weight and fat, but it does not decrease the amount of skin that covers their body. And once skin is stretched out, it will not and cannot return to its natural shape.
On the other hand, sources like the American Society of Plastic Surgeons claim the large jump in occurrences of arm lift surgery is because more women are paying attention to the look of their arms—especially the way it compares to the appearance of celebrities' (http://www.plasticsurgery.org/news-and-resources/press-release-archives/2013/upper-arm-lifts-jump-4000-percent-since-2000.html).
There are several reasons why arm skin sags, including weight loss (whether due to surgery, or diet and exercise), weight gain, aging and genetics. Removal of sagging skin due to those causes is just one of the reasons why patients undergo arm lift surgery. Other explanations arm lift surgery patients give for undergoing the procedure include to feel more comfortable about wearing short-sleeved tops and reshape their upper arm.
You may be a good candidate for an arm lift if you identify with the above reasons and:
Are currently at your ideal weight
See the skin and fat on your upper arm as excessive in comparison to your overall body mass
Have sagging skin on your upper arm that you have not been able to get rid of using diet and/or exercise
Are not obese
Are healthy and do not suffer from serious medical conditions
Have realistic expectations of the results
If you have considered undergoing an arm lift by an experienced plastic surgeon in the Manhattan area, do not wait any longer. You can turn to Dr. Heller, who has the expertise and knowledge necessary to give you tighter, younger-looking arms. He can also help you and other New York City patients target other sagging areas using procedures like a thigh lift and body lift. To learn more about arm lift surgery and the other surgeries Dr. Heller offers, call Allure Plastic Surgery today to schedule a consultation.