A New Way to Look at Facial Plastic Surgery
MANHATTAN AND NEW YORK CITY, NEW YORK – If facial aging is more than skin deep, why aren't more facial rejuvenating procedures?
At Allure Plastic Surgery in New York, board certified facial plastic surgeon Dr. Andrew Miller is shedding light on a new way of looking at facial rejuvenation – one that is changing the face of facial plastic surgery and its patients.
Why?
Because our faces change as we age – in more ways than one.
"There is so much more to reversing facial aging than simply tightening skin," says Dr. Miller. "Underlying tissues need to be repositioned or restored with fillers and fat grafts to rebuild a foundation that has been steadily compromised by time."
But don't just take Dr. Miller's word for it, scientific studies have also proven what Dr. Miller has learned from his experience as a facial plastics specialist.
By studying and comparing 120 CT scans of patients – categorized by age and gender – physicians at the University of Rochester Medical Center revealed that drastic changes in facial bones – particularly the jawbone – occur as we age and negatively affect the aesthetics of our faces.
"The significant decline in the jaw's bony volume as we age decreases support of soft tissue of the lower face and neck," says Dr. Howard N. Langstein, professor of plastic and reconstructive surgery at the University of Rochester Medical Center.
And although surgeons have long been taught that facial aging involves more than skin, it it's always reflected in their work.
"Many surgeons think they can achieve great results with skin tightening alone," says Dr. Miller. "The more wrinkles present, the steeper and tighter they pull the skin. Underlying tissues are often not addressed and neither is the texture of the skin."
The result?
A face that looks like this: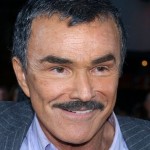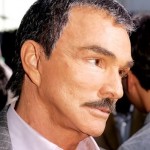 After looking at the results of Burt Reynolds' face-lift, it's apparent that a haircut isn't the only thing that can be deemed "high and tight." Notice the angle of his still-present crow's feet and how, even with this extreme lifting, he still has a gaunt, weathered appearance.
"By rebuilding some of Burt's diminished tissue structure, the surgeon could have tightened his skin less and still achieved a smoother and more refreshed result," says Dr. Miller.
Simply restoring underlying tissues doesn't make a face-lift look natural though. The following famous faces have obviously had dermal fillers and fat grafts yet, the severity of their lifting procedures has yielded startling results.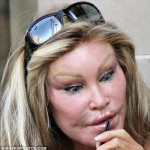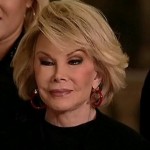 "You can't overdo any one aspect of facial rejuvenation and you can't leave one out – including addressing the clarity and texture of the skin – if you want to achieve superior results," says Dr. Miller who often adds laser or chemical resurfacing to his lifting procedures. "Balance and thoroughness is key."
Wondering what balance and thoroughness looks like?
Here is a before and after of one of Dr. Miller's face-lift patients: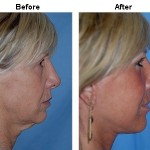 Notice how her jawline is cleaner, her cheeks fuller and her skin tone more even. She looks like herself – only better.
For more information on facial plastic surgery or to schedule a free consultation, call today, we are happy to answer any questions you may have.